Purdue Sports on Audio
Purdue has had many great announcers. Bob Ford, Pete Quinn, Larry Clisby, Joe Pate,
Steve Reid and to name a few. I like to take along a CD and listen to some of Purdue's great moments from the past and the present on trips. Here is a list of games that I have. But first, here is a tribute to the Best Purdue Sports Announcer of all times!!!!!!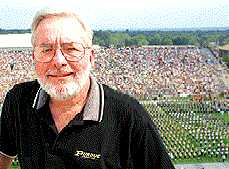 Joe McConnell
2000 Indiana Sportscaster of the Year
Purdue Football Games on Audio
1965
Purdue 25 Notre Dame 21 *
Spoilermakers upset #1 Irish
1969
Purdue 14 Ohio State 42 *
We lose but I am a true collector
1975
Purdue 28 Michigan 0

*
Look at the note above
1998
Alamo Bowl Purdue 34 Kansas State 31 McConnell/Quinn/Newton *
Brees to Jones saves the day
1999
Purdue Minnesota McConnell/Quinn/Newton *
Boilers rule the MetroDome
Purdue Indiana McConnell/Quinn/Newton *
Vinny's punt return rescues Purdue
Purdue Michigan State McConnell/Quinn/Newton*
Total Domination
Purdue Notre Dame McConnell/Quinn/Newton *
Mike Rose stops Irish on last play
2000
Purdue 41 Northwestern 28 McConnell/Quinn/Newton
Boilers take care of business in Evanston
Purdue 32 Michigan 31 McConnell/Quinn/Newton *
Travis Dorsch kicks game winning FG for Miracle I
Purdue 30 Wisconsin 24 McConnell/Quinn/Newton *
Craig Terrell blocks FG and Ashante returns it for OT win - Miracle II
Purdue 31 Ohio State 27 McConnell/Quinn/Newton *
Drew Brees to Morales for Miracle III
Purdue Indiana McConnell/Quinn/Newton

*
Boilers win Bucket and a trip to Pasedena for the Rose Bowl
Rose Bowl - Purdue Washington McConnell/Quinn/Newton *
Even though a loss, truly a memorable game with many more Rose Bowls to come!!!
2001
Purdue Washington State - 2001 Sun Bowl *
Boiler put up valient effort
2002
Purdue Washington - 2002 Sun Bowl *
Orton fuels awesome comeback
Purdue Basketball Games on Audio
1968-69
Purdue 120 Indiana 76 *
Rick Mount scores 40 against the Hoosiers
Purdue Marquette *
1969 NCAA overtime game won on last second shot by Rick Mount
Purdue 72 UCLA 92 *
1969 NCAA Championship Game
2002-03
Purdue Indiana *
Willie Deane and Kenneth Lowe send Opie home with a big black eye